High quality services by and for reliability profesionnals
By conducting a thorough assessment of existing processes, our experts can highlight areas that need attention and suggest ways to optimize operations, reduce costs and improve productivity. They can also identify opportunities to implement new technologies or techniques that can provide a competitive advantage.
Overall, our reliability experts will be able to help your company stay ahead of the curve by providing valuable information and recommendations that can be used to make informed decisions and continuously improve operations.
Our support has, on average, achieved the following improvements:
50-70%
Reduction in failure risks
5-30%
Reduction in maintenance time
2-10%
Increase in machine availability
10-20%
Increase in planners' productivity
2-6
Months for average ROI
*This data, based on the experience of Spartakus Technologies, is given as an indication and does not represent a contractual commitment.
Maintenance Strategy
The key to guiding your maintenance program from reactivity to proactivity.
Our team of certified technicians and engineers master the maintenance strategy optimization process in order to ensure the right procedures are done at the right times.

Lubrication
Condition monitoring
Preventative maintenance
Predictive maintenance
Reliability Assessment
Through interviews with key personnel, analysis of the various processes in place and available data & tools, our experts compare your current practices to recognized standards in your industry.
Evaluation of current practices
Our engineers conduct an on-site audit of your maintenance and reliability program.
Establishing an action plan with you
Gain valuable insight and develop a plan that prioritizes measurable benefits.
Support in the implementation process
We'll assist you in optimizing your reliability program to a world-class standard.
Master Data
Master your equipment hierarchy development with the help of our experts.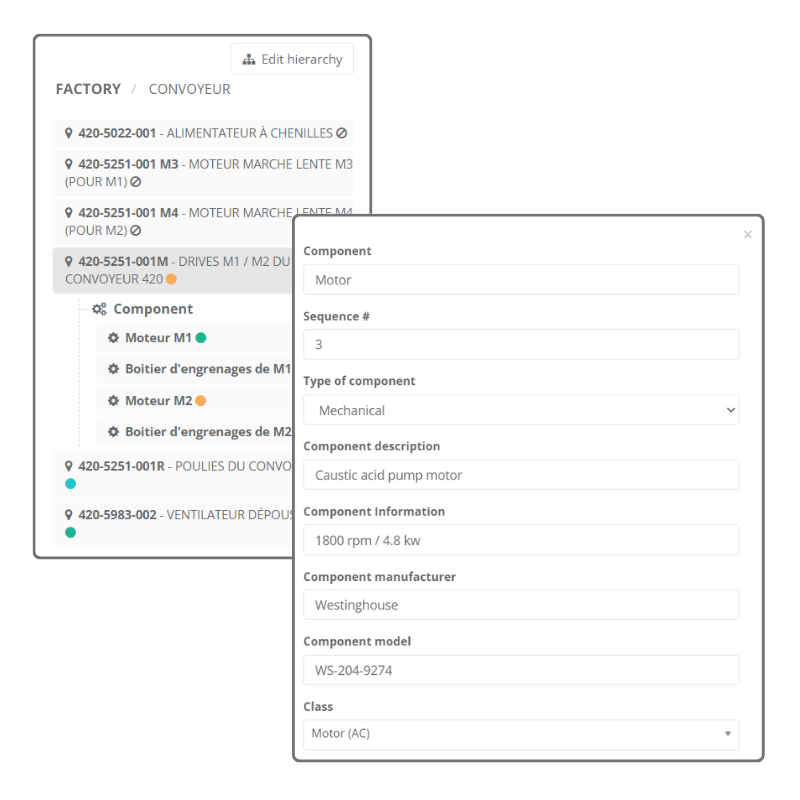 What is Master Data?
Master data is a philosophy of data organization, where every aspect of a factory from ID numbers to spare parts is recorded in a comprehensible and easily accessible format.
The Advantages
Quality Master data will enable your maintenance team to access valuable knowledge such as technical information and procedures.
Master data is one of the core gateways to a good reliability program, allowing for quality routes, part management, KPIs, and much more.
Our Services
For new installations or existing data hierarchy improvements, we will help you reach the maximum potential of your ERP or CMMS. Your team will then be able to optimize maintenance strategies, track the cost of assets, and maintain up-to-date technical information.
| Equipment | Criticality Ranking |
| --- | --- |
| Embosser | 9 |
| Overhead crane system | 8 |
| Driven roll | 6 |
| External splicing unit | 6 |
| Internal splicing unit | 6 |
| Rewinder | 6 |
| Driven rolls unit | 5 |
| Lower draw roll | 5 |
| Log accumulator | 4 |
| Palletizer | 4 |
| Core Accumulator | 3 |
| Internal unwinder rear | 3 |
| Internal unwinder front | 3 |
| Case packer | 3 |
| Log loader | 2 |
| Corewinder | 2 |
| Conveyors | 2 |
| Platform access barriers | 1 |
| Communication layout | 1 |
| Cameras system | 1 |
Criticality Strategy
This methodology is designed to identify assets that have the most impact on a plant's operations. It is a quantitative process that uses objective criteria only, which we will use to consider a probable worst case scenario for each piece of equipment's potential failures.
The Benefits
Prioritize work orders and maintenance activities
Establish the optimum maintenance strategy
Prioritize capital projects
Prioritize RCA activities
Decide on the critical parts to have in stock
Quantify the intrinsic risk of each asset
Spend money and effort on the most critical assets
Our reliability experts can help your company optimize operations, reduce costs and improve productivity by evaluating your existing processes. We also provide quality training to help you master maintenance strategies and become a reliability expert.
No matter your skill level or role, we can help you implement reliability initiatives with confidence. Contact us today to learn more about how we can help you achieve your goals.